Dominica's Citizenship By Investment – Caribbean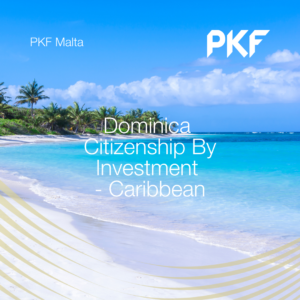 Dominica is an island country of the Lesser Antilles in the eastern Caribbean Sea which lies between the French islands of Guadeloupe and Marie-Galante to the north and Martinique to the south. The country has been a member of the Commonwealth since independence in 1978.
In 1992 the government initiated a controversial scheme to offer "economic citizenship" to investors from other countries. Dominica's great natural beauty, especially its spectacular mountainous topography, has impressed generations of nature lovers. The island has sought to develop reserves of its unique flora and fauna to attract tourists and markets itself as the "nature island" of the Caribbean.
Dominica – Citizenship By Investment Program The benefits:
Individuals are able to attain citizenship by investing $220,000 in real estate projects whilst also taking into consideration ancillary fees. Many attempt to acquire a 2nd citizenship in Dominica because of its many benefits in relation to the investor.
First and foremost, once acquired; citizenship is for life and is passed to a number of dependents and other family members as well as being passed down to generations whilst not required to visit or reside on the island in order to attain such citizenship.
Passports are also issued relatively quick; within 90 to 120 days from the day when the filling of the application is processed.
Tax is also another incentive for investors given that there is no tax on income, capital gains, gifts and wealth and inheritance. A generous tax regime is in place where the currency pegged is the USD.
Investors enjoy access to 120 countries visa-free including; the UK, Singapore, Schengen European countries and other countries amongst the ones mentioned. The citizenship program bestows on the investor full residency rights and status including the right to work. Dual citizenship is permitted and opens to all nationalities without the requirement to notify the applicant's home country.
Given the annually increasing price for acquiring citizenship stipulated by the government of Dominica, it is projected that the investor may realize a capital gain when the investment is sold (especially now, visa-free access to Schengen countries has been introduced).
Based on income and capital gain projections, the investor is expected to receive an amount equivalent to the capital invested and all fees that were paid at the outset following the expiry of a mandatory 5-year hold period.
A citizenship by investment in Dominica will cost somewhere around $280,000 for a family of 2 adults and 2 children under the age of 16. This makes it an affordable investment that will reap a plethora of benefits in relation to its investors. Nonetheless, investors ought to retain their qualifying investment for at least 5 years in order to maintain their citizenship, however, after the lapse of these 5 years, they are free to sell their investment without hindering their citizenship status.
In addition, the application process is extremely applicant-friendly and cuts any type of bureaucracy
How PKF Malta can help:        
PKF Malta is vested together with its partners to make this process for you and your family, as simple as possible. PKF Malta will accompany you throughout the entire process and make sure that your citizenship by investment program is an enjoyable, successful and smooth route.